EZ PZ RPG
EZ PZ RPG 2.151.0(無料)
カテゴリ: ゲーム, ロールプレイング, 単語
現在の価格: 無料(サイズ: 60.8 MB)
販売元: R2GAME CO., LIMITED – R2GAME CO., LIMITED
リリース日: 2015/03/05


現在のバージョンの評価:(0件の評価)
全てのバージョンの評価:(0件の評価)
スポンサーリンク
What's New
• New Features
Voice Chat – Players can now voice chat with Guild members in the Guild channel.
Random Name Generator – Now there's no need to rack your brain for a name to enter the game.
Raised level cap to 100;
• New Gameplay
Guild War – New PVP system between Guilds;
Evil Envision – New World Boss event;
Advanced Refine – Now you can lock two stats when refining;
Skill Mastery – New specialized skills for each class;
Lvl. 90 – 100 Maps – New maps unlocked;
Lvl. 95 – 100 Trials – New Trials unlocked;
MP Dungeons – Multi-player dungeons unlocked;
New feature – Facebook share system
• New Items
Set Gears – New Lvl. 100 gear sets;
Relic EXP Stone
• Others
Optimized the Arena system, Guild system and in-game mail system.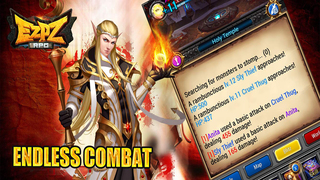 Description
Welcome to EZ PZ RPG, the game that's so easy to play… it doesn't even need you!
All you need to do is choose a class, and the game will play itself, even while you're doing something else – grabbing groceries, putting your apps in alphabetical order, or… whatever else you do with your free time. (We don't judge). Check up on your hero later, and you'll have a ton of EXP and loot! Go you!
Upgrade your character so you can take on bigger & badder monsters, delve into deeper & darker dungeons, and get your hands on better & rarer loot! Then take on your friends head-to-head in Arena combat, all from the comfort of your pocket, purse, nightstand, or… wherever. Easy Peasy!
Don't be fooled though, this game isn't your everyday dungeon crawler, beat em' up, or hack n' slash. EZ PZ offers non-stop action as a unique hybrid, so if you want the full hardcore RPG experience, but don't want any of the headaches that come along with it, this is the game for you!
***FEATURES***
● Accessible Mechanics
Don't be shied away by complex features and convoluted systems, EZ PZ gets right to the point. No fuss.
● Create Your Hero
Choose from one of the three distinct playable classes, and set forth on a perpetual adventure!
● Endless Combat
Continuously progress while away. The fighting never stops, even while you sleep!
● Full RPG Experience
Equip your character with epic loot, gain levels, learn new skills, and meet new companions to add to your party. EZ PZ also features a full crafting system, so you can always make what you need!
● PvP Arena
Challenge friends and foes alike for the ultimate test of strength. Form teams or face your rivals 1-on-1, and become the true champion!
● Form Guilds
Band together with friends and like minded players to join forces! Help each other reach the top!
ゲームランキングTOP5